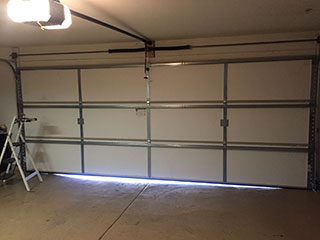 Our company has been fixing and installing garage door systems for a great number of years now, and we've encountered every possible malfunction under the sun. One of the things we've learned over those years, is that a lot of problems can be avoided, as long as the system in question is properly maintained. That's why we started offering regular service appointments, during which we perform a number of tests, adjustments and repairs that ensure the working efficiency of the door and its various parts.
Important Safety Tests
Your garage door opener needs to be examined in order to make sure that its internal components and its various features are working properly. Our technicians will check the motor gear and the circuit board for any wear, and test the safety sensors for misalignment and functionality. The latter are photoelectric eyes that are incredibly crucial, as they alert the opener when an obstacle is blocking an open door's decent path. If they fail to work correctly, your safety could be compromised.
Preventing Spring Problems
The springs are an important part of your garage door; the most important part, in fact. They support and counterbalance the weight of the panels, and help the system open and close. As a result, they will suffer from gradual wear and tear, and therefore they need to be lubricated and examined on a regular basis. Sometimes, spring adjustment may be required, due to the fact that the tension of these components may become loose and the door will become unbalanced. Our experts will check for that too and make sure that your system is completely even.
Additional Crucial Tweaks
We will also lubricate the steel rollers to keep the panels' movement smooth. We'll also perform minor track repairs to ensure that there are no dents or bent sections that might prevent the aforementioned components from moving. To make sure your system is fully functional and able to live up to its full potential, give our team at Garage Door Repair Kyle a call today.
Count on us when it comes to:
Garage Door Troubleshooting Services
Galvanized Torsion Spring Installation
Garage Door Cable Replacement
Emergency Garage Door Services