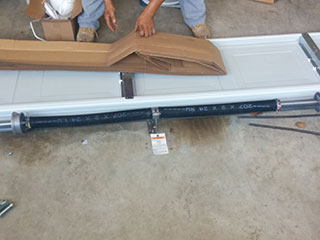 Your springs utilize a large amount of kinetic energy to lift and lower your garage door, and hold it until it locks in place - these components to be strong enough to move those heavy door panels and flexible enough to contract and expand.
Know Your Springs
Garage doors use torsion springs, extension springs, or a mixture of both (although this is rare). Torsion springs are mounted across a metal bar that extends along the top of the door, and function using torque motion to raise and lower the door. Extension springs come in pairs on either side of the door and work by extending and contracting. These components are kept under a high amount of pressure meaning they're vulnerable to wear and tear. For this reason, both types need regular upkeep and maintenance to ensure they continue to work safely and properly.
Replacement And Adjustment
Both types of spring and their housing mechanisms need periodic adjustment and inspection to ensure they're not too loose or misaligned. Regular lubrication and cleaning will help to prevent them from getting caught, frayed, and rusted. If a spring warps or breaks, you will need it replaced as your door will become inoperable – this can be a tricky, dangerous operation. Luckily, our technicians are highly trained and thoroughly practiced in the upkeep of springs. We are on hand to replace these damaged parts if the need arises.
Don't Try To Do It Yourself!
When a spring breaks or comes loose, the tension stored gets released suddenly, meaning the metal can go flying at a high speed. You aren't just putting yourself at risk by tampering with these on your own; family members, neighbors, or anyone else who happens to be standing nearby could be at risk of injury. All in all, if there's one household task that you shouldn't try to do yourself without professional training, its attempting to handle your garage door springs when something goes wrong.
You Can Count On Us
Our technicians here at Garage Door Repair Kyle have your back. Give us a call right now and rest assured that your springs – and any other door components that need it – are in capable hands.
Need more? We also provide:
Garage Door Tune Up Services
Belt Drive Garage Door Openers
Oil Tempered Torsion Springs
Overhead Door Installation