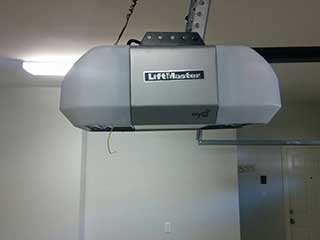 The way an automatic garage door system works is very similar to the way a manual one operates. The main difference is the opener, which is the motorized unit that essentially replaces the minimal contribution you would make using your hands, with a mechanism that uses the motor's generated horsepower to push and pull the door open and closed, same as a self-reliant robotic arm. The major benefit this allows is operating the door remotely, which, in today's world, could mean from anywhere in the world, as long as your opener has the right features to make that possible.
There Are Three Main Types
The type of drive system they use is the major distinguishing factor that divides garage door openers into three different categories. Chain drive models are usually the cheapest type, but also the strongest and most reliable one. However, they are very noisy, which can be a major compromise if you have an attached garage. Belt drive units are the opposite. They are incredibly quiet, due to the fact that they use a reinforced belt instead of a chain. This also makes them more expensive, though, and not as long-lasting. Screw drive models have the benefit of requiring very little maintenance, as well as being the fastest of the three. Their downside is that they are also noisy, and can be affected by temperature shifts.
Finding The Right One
When it comes time for you to choose a new garage door opener, the wide range of choices available can make the decision making processes very hard. Our team is here to help you with that. We work with major brands such as Chamberlain, Genie, and Liftmaster. We can help you determine which drive system is going to be the right fit for your needs, and whether or not the model you have your eye on will be able to generate enough horsepower to move your door. We'll also advise you on which special features, like internet connectivity and backup power, are worth investing in.
The Common Problems
Of course, nothing is without its flaws, especially not a device as complex as a garage door opener. There are all sorts of things that can come to affect this type of unit, from a worn out motor gear to misaligned safety sensors and even trouble with the circuit board or the trolley and the rail. No matter what the issue is, though, you can count on our team at Garage Door Repair Kyle to handle it safely and quickly. Opener repair and installation are two of the areas we specialize in, so give us a call today to have our professional technicians help you.
Let our team take care of it for you!
Roll up Garage Door Maintenance
Extension & Torsion Spring Replacement
Belt Drive Opener Installation
Extension Spring Adjustment