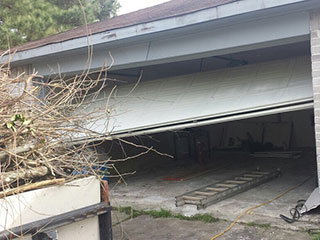 For most parts of the United States, hurricane preparedness is necessary. Anyone who lives in areas frequently visited by hurricanes already knows how important it is to be prepared for these giant cyclones. It is crucial that you make use of your garage as a hub for safety efforts when a hurricane approaches. Luckily, these storms take a lot of time to develop, so you can make all the necessary preparations before they eventually hit.
Organization Is Key
The first thing you need to do to prepare for the hurricane season is clear the yard. You have to remove everything that the hurricane can potentially pick up and hurl like tables, chairs, garden tools, and flower pots. You should also try making your garage a temporary storage facility. Once you have organized all your equipment inside it, you need to make the door is strong enough to withstand the coming storm.
Reinforcing The Door
There are two basic approaches to strengthening a garage door. The first one is adding bracing to your existing frame and panels. This will essentially serve as added support, like an extra skeleton that will help keep the door in place when the strong winds lash out against it. This type of approach will definitely bolster the current door's ability to withstand a hurricane, but only up to a certain point. The other approach is to replace your current system with a hurricane-resistant garage door. If that's what you decide to do, there are several things that you need to consider.
What To Consider
First, find out the wind load requirement for your region and verify the model that you choose meets these requirements. Furthermore, consider choosing a storm ready garage door. This type of door requires no additional advance set up, and is ideal for most homeowners, as it comes with heavy-duty hinges, springs, tracks, and other various parts. These components provide additional strength and will help keep the door in place when the hurricane hits. Although wind load garage doors can be costly initially, in the long run, their reinforced durability makes them more than a worthwhile investment. Give our team at Garage Door Repair Kyle a call and let our experts help you with the installation process.